Island economies: Mindanao and Sri Lanka
SOME 5,000 kilometers to the west of Mindanao is Sri Lanka. Mindanao has a similar latitude with Sri Lanka at about seven degrees north of the equator. Mindanao's population in 2015 was about 24 million; Sri Lanka's, 21 million. Sri Lanka's land area is 63 percent of Mindanao's 10.2 million hectares (ha).
Both suffered from internal strife: Mindanao under various shades of insurgency; Sri Lanka under the Tamil Tigers. However, Mindanao's 41 percent poverty incidence at national headcount in 2012 was very high compared to Sri Lanka's poverty incidence of only 6.7 percent in 2012.
Economic Dimensions, circa 2013/14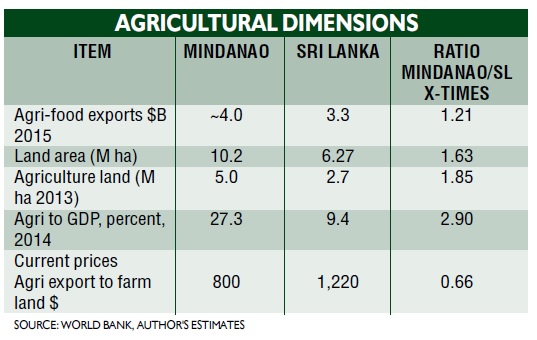 The objective of this brief is to compare Mindanao's economy with Sri Lanka's. Some lessons can be learned to move forward Mindanao's development.
Agriculture
Mindanao's main crops by harvest area were: coconut, 1.8 million ha; corn, 1.4 million ha; rice, 1.2 million ha; banana, 247,400 ha; rubber, 214,300 ha; sugarcane, 92,500 ha; mango, 76,800 ha; pineapple, 51,200 ha; and oil palm, 42,700 ha in 2014. Three crops dominate agriculture: coconut, 36 percent, corn, 28 percent, and rice, 23 percent.
By contrast, Sri Lanka had 881,000 ha of rice; 395,000 ha of coconut; 222,000 ha of tea; 136,000 ha of rubber; 67,000 ha of maize; 53,000 ha of plantain; 40,000 ha of pepper; 30,000 ha of cinnamon; 24,000 ha of cassava; and 21,000 ha of sugarcane. Only rice is dominant with 32 percent of agriculture land, coconut had 15 percent and rubber 6 percent in 2014.
Comparative Farm Yield
Mindanao lags in most crops, especially corn, coconut and rubber. It is far ahead in bananas, and slightly up in sugarcane and cassava.
Read more: http://business.inquirer.net/213479/island-economies-mindanao-and-sri-lanka#ixzz4HYPfnbeV